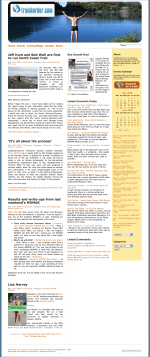 Pano from Trainharder.com contacted us a few months ago with great aspiration for his website which he wanted to grow into an all-encompassing resource for the outdoor community. He has been blogging on his WordPress-based site for the last few years and the overall design was something he wanted to rethink in the hopes of expanding his readership. Having the basic idea and concept of what he wanted to achieve, he looked to sixty4media to help him reach that next step.
The previous design of the site was a four column layout that had outgrown Pano's vision of Trainharder.com. Cranking out great content relating to "an adventure resource and news site for people who like to get outdoors in B.C." takes a lot of work, especially for someone who is getting outdoors himself on a regular basis. On top of regular posts, there is an events listing to create an on going hub of information relating to outdoor races or gatherings. Doing this on a small scale basis is a large task, to say the least so optimizing the content output and the flow of the site was key.
sixty4media's custom theme cleaned up the overall design of the site, giving more focus on the content. The front page was revamped with a three column design while a two column design was applied to the individual posts and pages. The idea was to cater to two specific groups of audiences: those who are frequent visitors to the website's front page for visual appeal and those who are RSS subscribers that tend to pay more attention to getting the raw information out of the content.
Elements were specifically tailored for this WordPress-powered site and by using the events calendar plugin, we were able to customize listings, which helped to make this portion of Trainharder.com more effective as a resource. Essentially, if there is a foot race or trail running event in B.C., there is a good chance that it will be listed here.
Last but not least, we brought the WordPress install up to the latest version of 2.5.1, a much needed upgrade to the back end of the site.
Feel free to visit Trainharder.com if you are interested in seeing how the plan came together. Pano is actively building a community based on this unique market, making this a very strong online portal for folks who get outdoors and away from their computers. It's very cool stuff.