To help aid the abundance of folks who are finding their way to Twitter, the one element that I find to be poorly used is the way people share URL's in their tweets. I know that sounds very picky, but there are more effective ways to do this so you maximize the overall reach of what you are trying to share with your Twitter followers.
So why is this a big deal? Why can't you copy and paste any URL from your browser and post it to Twitter?
Well, the answer is that you can. There is nothing to stop you from doing that, and if that is the way you want to do things, then keep doing what you are doing. However, if you want to be sure that people follow through on viewing that link, you might want to think a little differently as to how you do this because not everyone uses Twitter the same way.

Third party applications don't display links the same way as twitter.com
The biggest thing to remember about Twitter is that it is not a strictly web based service. The advanced user will tell you that Twitter.com is only the tip of the iceberg when it comes to telling the world what you are doing in 140 characters. Stand alone applications and mobile devices are among the numerous ways that updates get sent to Twitter by various users, and each one displays those updates in their own way.
For example, I'm using a local Vancouver radio station, 99.3 The Fox, and their Twitter stream to exemplify what I mean because this isn't a matter of what's right or wrong. The point is to show how you can be doing this better.
The following is a screenshot on Twitter.com of an update they made that has an intention of driving users to their website. You can see that the website address is automatically linked because of the way the Twitter developers have programmed their service.


The major issue with this is not everyone interacts with Twitter the same way. For myself, I know that my main method of interaction is a third party extension for Firefox called Twitterfox, a tiny application within an application that allows me to view and send tweets from within a browser window.
So in comparison, this is how the same tweet up above from @993thefox looks like in Twitterfox.


Notice how the same, implied website address isn't actually linked when viewing this same tweet in this application. When you consider that there are multiple applications for Windows, Mac, Linux, iPhone, Blackberry, video game systems, and so on, I find that to be a negative impact on the reach your trying to accomplish. Without having that URL being automatically linked, you're missing out on someone going directly to it as soon as they see it.
So, how do you do this more effectively?
Use "http://website.com" for links, not "www.website.com"
In the world of Twitter, you have 140 characters per tweet, so the key is being direct and to the point. Have a message and get your followers to click on your link as soon as they see it, and the easiest way to do that is to drop the "www." and put "http://" ahead of your domain name.


As you can see in these two examples, each of these users that I follow on Twitter have made tweets that include URL's with no "www." but include an "http://" on the front of the websites they want you to visit. Additionally, this type of addressing crosses over from third party applications like Twitterfox to Twitter.com itself. Ultimately, you increase the amount of possibility that someone will follow that link back to where you are trying to drive traffic to.
But what happens when you don't include either "http://" or "www." in your URL?

As you can see, not using either won't have the URL linked either way (even though I don't have the update from Twitter.com as a screenshot, this address was not automatically linked as well). Is this the wrong way to use Twitter? No, but it's not as effective.
Keep your URL's short and sweet
Keeping the 140 character limit in mind, not all URL's are as short as we'd like them to be, especially for Twitter. So what do you do when you run into a link you want to tweet but doesn't leave you very many extra characters to say anything else?

There's nothing worse than having your update get cut off or Twitter telling you that what you're trying to update with is too long. Fortunately, there are services out there to help you make your URL's shorter.
TinyURL is often a popular one that I'll use for this example, but there are many others like Bit.ly, Tr.im, etc.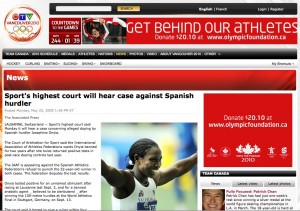 @ctvolympics is the official Twitter account of ctvolympics.ca, a website dedicated to CTV's coverage of the 2010 Winter Olympics in Vancouver, and every update they make to their website gets a tweet with a URL to the post.
The address for the page here is:
http://www.ctvolympics.ca/news-centre/newsid=11000.html?cid=rss
Using TinyURL, anyone can easily "shrink" the length of this URL, making it perfect for a tweet.

In this situation, ctvolympics.ca has all of their posts automatically updating their Twitter stream, and this is a great way to drive traffic to your site. It's worth noting that a great plugin that can do this for your WordPress installation is WordTwit, made by our good friends at BraveNewCode and used on our site as well.
If you are looking to use Twitter to drive traffic to your website or to any other location on the web, this is something you should consider when trying to spread the word. It sounds picky, but if you make it that much easier to someone to go through one motion of clicking on a link, then you've upped your chances for accomplishing what you want to do.